ProCommander 2™
Solid-State show control for themed entertainment and attractions.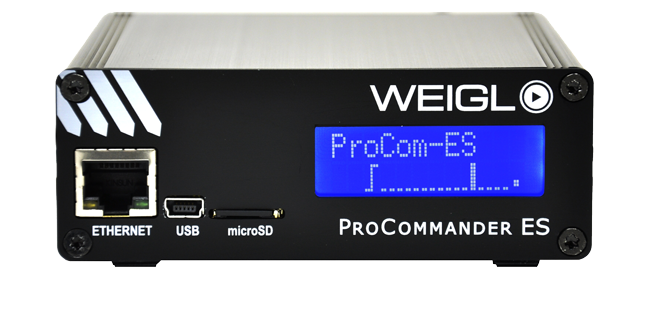 ProCommander LTC™
Integrated HD media player

The ProCommander™ Series features solid-state show controllers built for playback of synchronous audio, video, animation, lighting, and mechanical action. The controllers' flexible architecture options and open control protocols allow inspired attractions to be designed without hardware limitations.
Designed for daily operation in harsh environments, ProCommanders are built to run 24 hours a day, 7 days a week. Shows can be set to loop on power-up; be triggered internally by other timelines, digital or analog inputs; wait to sync with incoming SMPTE timecode; or simply begin from a UDP command via a touchscreen or theater automation system
ProCommanders are configurable through our free Hardware Configurator, replacing complicated command prompts with a simple user interface. For more advanced programming, you can use a supported timeline programming application to program and playback synchronous audio, video, animation and lighting. You can also custom build your own tools through Director, Flash, Flex and other environments capable of sending ASCII commands over UDP.
An asynchronous command structure employs UDP messaging through simple ASCII and HEX commands, opening integration possibilities to nearly any available system—and enabling you to build innovative, interactive exhibits.
 Once a show is programmed, ProCommanders can store all shows on a single memory card. All shows can be managed by either the onboard serial ports or through our bi-directional ASCII command protocol via UDP.