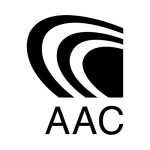 AAC Audio Support For All Current Hardware Devices & ConductorPro – Available Now!
Effective immediately, all current Weigl hardware devices (WEMC-1 not included) are capable of using high quality AAC audio playback within .wm1 show files and through native Windows/drag and drop file management & playback. AAC audio offers users a high quality path to compress sound files for show playback via the MicroSD and SD cards. Using AAC audio, Weigl is able to offer our users higher quality audio than previously used codecs, as well as reduce the file size and processor requirements on our devices, ultimately expanding how complex an interactive audio driven show can be.
All new devices will ship AAC enabled and existing 2nd generation devices may be activated free of charge by emailing support@weiglworks.com with the serial number and MAC address (printed on the bottom of each box, or visible in the "Hardware/Network," tab of Configurator). Users can manually copy AAC files into the Audio folder of the SD card, or use ConductorPro versions Advanced or better to automatically export synchronized AAC files embedded with .wm1 files as they are previously used to. During deployment, AAC/OGG can still be selected for complete legacy show file compatibility. OGG will continue to be supported in all PC workflows going forward.
Additionally, AAC comes in continued support of our commitment to MacOS/iOS users as we expand our workflow and programming tools to best suit those creating content from these platforms. Please contact us at support@weiglworks.com with any additional questions or comments!